Rs.2 dosa that fills hungry stomachs for dinner on the roads of Tiruchi.
Dosa for Rs.2 and if you want idli podi sprinkled on it, just pay Rs.3. Well, talking about Utappam, a type of dosa topped with onions and carrots, one needs to pay just Rs. 4. Along with dosas, two kurmas, two chutneys and sambar are provided for free. Wondering where it is? On a small street near Woraiyur police station in Tiruchi city of Tamil Nadu, there's this humble outlet opened by Chinnatambi to cater to the dinner time hunger pangs of people. His aim is to fill the stomachs of even the poorest.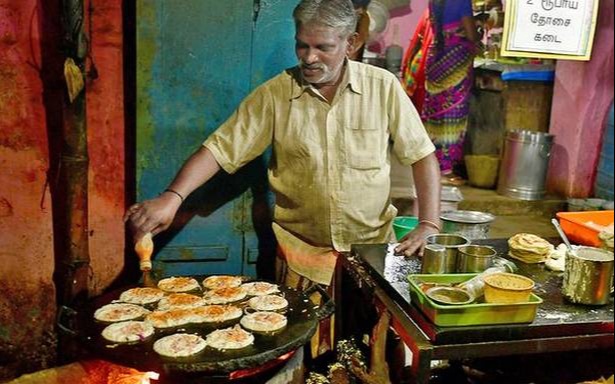 Idli, parotta, a variety of uttappams, omlette etc.- a total of 24 different items, are made available from 6:30pm to around 11:30pm everyday. Chinnatambi, who worked as a cook at a nearby restaurant for several years decided to start one on his own. Having hailed from a humble background, where he experienced days when he had to sleep empty stomach, Chinnatambi resolved to offer food at reasonable prices that even the poorest can afford. Chinnatambi doesn't earn enough to save but whatever he earns in a day, is sufficient to run the next day's business and to pay the shop's and house rent.
49-year-old Chinnatambi has a great heart that's reaching out to those in need. May he be blessed.