Multi-purpose Food Processing machine is here to benefit the farmers!
From taking care of family's farm and herbal plantations to becoming an organic farmer and an innovator, this Haryana man has seen everything along with experiencing the hardships of being a rickshaw puller.
What a funny sight was it for Dharambir Kamboj, when he saw how the herbs and fruit-based products that grow in his village being sold at exorbitant prices in Delhi! It is then that he understood the demand for herbs, fruits and their products. An accident he met with in 1987 took him back to his village where he began his research on organic farming. While finding ways to make products out of fruits and herbs, he noticed how the related machinery is also priced at sky-rocketing prices. He designed an idea and thought of a prototype himself. With an investment of just Rs.25,000 and with eight months of efforts, the prototype of the Multipurpose Processing Machine was made ready. This first-of-its kind, portable, user-friendly machine can be used for various functions such as pulverising, mixing, steaming, pressure-cooking and juice/ oil/ gel extracting which can process more than 100 varieties of fruits and herbs. Dharambir also obtained patent for his machine by the National Innovation Foundation.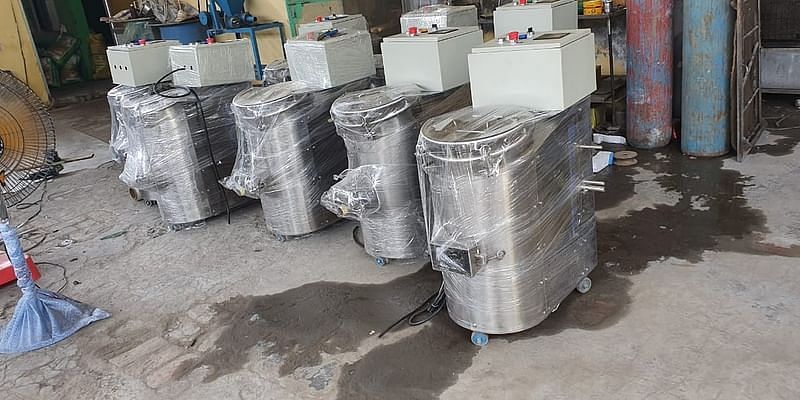 Dharambir has been supporting the farmers and rural micro-entrepreneurs to gain profits by selling products out of processing fruits and herbal crops they grow in their farms by selling his machine across India and 15 other countries including the US, Italy, Nepal, Australia, Kenya, Nigeria, Zimbabwe and Uganda. Dharambir has been organising workshops and training programmes explaining the working of this machine.
We wish Dharambir who aspires to see his food processing machines in at least 100 countries in the days to come, a great success. His innovation is a boon to all the small and medium farmers as well as the rural micro-entrepreneurs. May many more farmers benefit out of his invention and may the city population receive the palnt/fruit based products at reasonable prices.