Meet the man who stops fire!
Cooking fires that emerge from the kitchen are the primary cause of fires in residential premises that not only cause huge property damages but also cause life-threatening injuries and even deaths. Here is a man who helps people combat domestic fires! When a fire ignites, often people don't have proper equipment to protect themselves from the rising flames. Here is where Judah Jay from Singapore has come to their rescue. While most of us run away from what we are terrified of, Judah Jay has confronted his fear of fire. Now, he is offering fire safety methods through his Fire Terminator Solutions.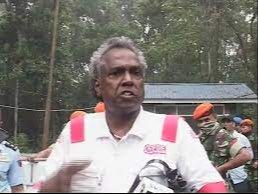 When he was a kid, Judah suffered second degree burns from a fire accident and spent 45 days in the hospital. But that incident didn't keep him scared of fire for the rest of his life. Instead of staying away from fire, he 'embraced' it, studied it and gained a PhD in Fire Management. He studied for years and came up with a liquid that can stop fires. This liquid can be poured anywhere and it protects the object on which it is poured from being burnt even after the solution dries off. To equip people with the right tools that can save their families and properties from dangerous fires, Judah Jay, the Fire Terminator has been relentlessly striving and is been being successful over many years. Conquering fear and making it to become the very aspect of one's identity is beyond imaginary and Judah did it!