Five-year-old sets a record in answering the GK questions.
I still remember the way GK classes were held in my school and the way GK was included merely as a subject to improve grades in the score card. The teacher would read out the answers and we, students would take them down, byheart them for the exam and would spit them on the answer sheet. The same thing happens with most of the schools even today. But that knowledge has never been useful to the students in their attempts to crack competitive exams later in their lives. Current affairs keep changing but General Knowledge concepts don't. There is a unique technique to instill GK information into a person's mind. Curiosity is the main key. If the learner is inquisitive, concepts of General Knowledge dive into their minds and stay there. And again, age doesn't matter. Aneya Abhilash from Palakkad in Kerala is just five years old and has set a record by answering 70 general knowledge questions in just two minutes and fifty-five seconds.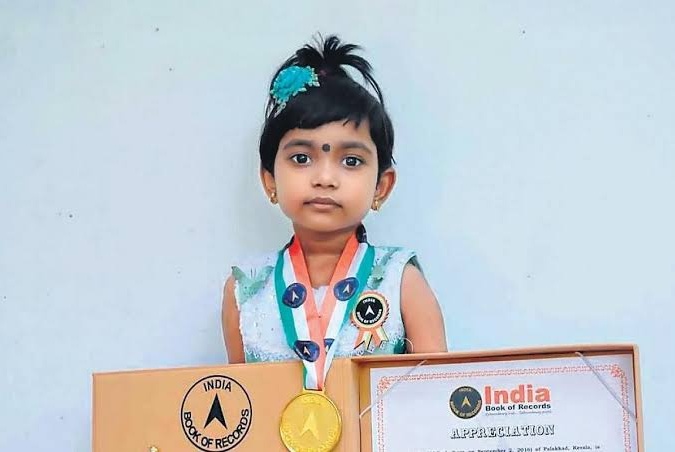 It all started with the preparations of her mother for the Kerala Public Service Commission exams, when she used to refer to GK books. Aneya, two years old at that time, would sit with her mother, and eventually developed interest in learning them. One day she asked her mother Amrutha to teach from the book. Amrutha taught her girl, a few questions per day but hasn't taken the girl's interest seriously. To her surprise, Aneya grasped too quick and asked her mother to teach more. Amrutha started coaching her little one whenever she had got time off from her work and studies.
Amrutha learnt about India Book of Records. "I thought why not enter Aneya too. She was doing so great and that too at such a tender age," she said. Aneya who is studying in UKG is currently homeschooled. "Aneya mastered over 150 facts. But we limited the number of questions to 70 for the record as going for bigger numbers would have caused a lag," she mentioned
Just say the word "General Knowledge" and the little girl would come running to you to learn new things. We wish Aneya great success in all her future years. May she remains away from the pressure of learning and may she learn with joy and love.