A Common Man's Temple. Reach and feel the essence with no disparities.
20km away from Uppal and around 30km away from Secunderabad, there's a house located in N.F.C Nagar, Ghatkesar, Hyderabad of Telangana. This house has four members - a small Indian family. It also houses cows and other small pets that their younger son is so fond of. More than viewing this family as any other normal Indian household, people have given them a higher place. The man of the house is a priest and people fondly call him "Guruvugaru" (beloved teacher) and his wife is also treated with great reverence. But again, if you mistake them to be holy saints or gurus, then it's time to correct your thought. They are just like an ordinary family with two sons, one of whom studies in a Vedic school and the other goes to an English medium school. But what made this family so special and why are they included in this section on Temples of India?
Read further.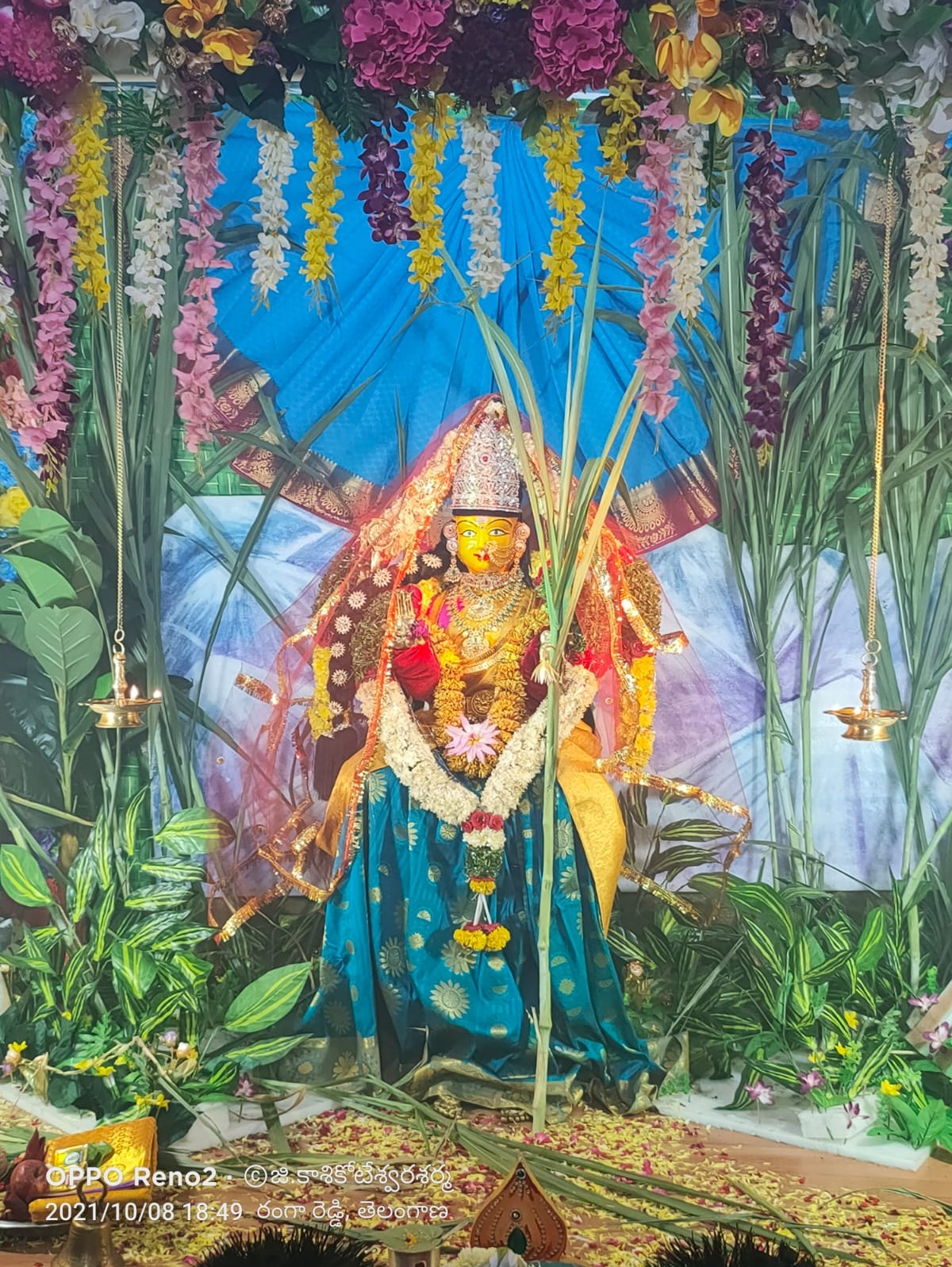 When I was suffering from some health issue four years ago, my neighbour came to our house and said that I should visit Shri Kasi Sharma's house in the same colony. She mentioned that he organises Navratri Pooja and whoever attends the 'pooja-paath' for all the nine days gets relieved from all sorts of physical and mental pain, and would see peace reigning in their lives. As soon as I heard that, though I was not sure how prayers can give health when doctors are trying their best, considering my desperateness to get out of what I was going through, I decided to go to Shri Kasi Sharma's house. Day one of Navratri Pooja started in the evening and I was there. As soon as I stepped inside their house, I was stuck by not just one thing but umpteen. What started with half-heart that day, ended up with complete submission of self and yeah, I walked a path of recovery. I'm not talking of magic here. Read further to know what I experienced.
In a big hall, the family places Devi Ma in her respective 'avatar' everyday. She is decorated with flowers, glittering ornaments, colourful clothes and she looks enchanting, may be I cannot describe her beauty! Her face gleams like a ruby amidst diamonds. People from nearby localities come there to visit Devi Ma. It's not just visiting her, offering her some flowers, take 'prasaad' and leave, like we generally do in temples. People sit there, participate in every Pooja/ritual that's organised. The amazing part is that there's no difference of gender, caste, religion, economic status or age. Anyone and everyone is allowed to sit for hours infront of Devi, do every auspicious ritual like 'abhishekam' to the main idol with their own hands (unlike in temples where the main priest does all that and gives us the holy water). I was really impressed. No one cares for who is what and to the priest Shri Kasi Sharma, everyone is equal infront of Devi ma and invites everyone with a warm smile. People offer holy chants in single tone, sing songs of praise and prayer, offer Indian classical dance steps at the feet of Devi Ma. Every single person present there appreciates and applaudes the talent and skill of others. For a few hours, everyone forgets who they are and become involved in the concept of uniformity.
Shri Kasi Sharma and his family also organises various events like Dhandiya to Devi ma and on the 9th day of Navratri, they take Devi Ma around the village on a palanquin, surrounded by numerous people singing and dancing. This event brings the whole colony together and is a night to remember. A temple or an association doing all this is understood, but a man doing all this single-handedly is not a joke. This didn't happen overnight. Shri Kasi Sharma and his family struggled for years by living a life below the poverty line. His dedication and commitment towards his work and belief has given strength to his standing tall.
Shri Kasi Sharma says that one need not fast to offer their prayers. He mentions that a burning stomach has no focus towards anything. A stone cutter or a mason or an architect or a politician - be it anyone, no one is given a special treatment. Everyone can touch and seek blessings of their reverent god. He doesn't even ask for donations to do all this. Of course people contribute according to their will and strength. The way he distributes 'prasadam' at the end of pooja every night is just like how a mother feeds 'extra' to her child. He even asks people to take some 'prasadam' home for those family members who couldn't attend.
I heard stories of people getting better in their lives after they started visiting Shri Kasi Sharma and participating in the rituals he conducted. The main reason behind this is that one gets a chance to divert his mind from what he is going through. When the mind finds something else to do, it automatically forgets what's causing pain to it. When people visit Shri Kasi Sharma, he involves them in various activities like arranging things for Pooja, decoration, dance and song rehearsals, sorting out flowers and ornaments for next day's 'alankaram' etc. That means, people do group activities talking about various aspects and forget their issues for sometime. This will definitely make their minds free for the next day and they become prepared to think better for the best days. My illness began to cure because I was not anymore sitting at home after coming back from office eating dinner and taking medicines. Soon after the day's work, I would rush to spend my evenings at his house and come back home to a good night's sleep. Whatever he does in the name of God is to bring people together, involve them in productive activities, keep them cheerfully occupied and there you go! That's the medicine! There are many ways one can perceive this. But to me, it's a way out of routine that breaks people from monotony. Those who don't make time for anything in their lives after a long day's job, will surely go and participate in the rituals if they are conducted in the name of God. This way, aren't we seeing God in everyone around us?
Shri Kasi Sharma has now got so many people coming in from distant places and participating in everything he organises. Though people often go to the two most beautiful temples located in the same colony, they make sure that they visit Shri Kasi Sharma's house without fail. That's the beauty of it.