This young painter is paying tribute to the Renaissance art!
She picks up classics such as Vermeer's Girl with a Pearl Earring, Michelangelo's David, Adam (Sistine Chapel) Michelangelo, Arcimboldo's Autumn etc. and gives them her style of uniqueness. With background in black or coloured but the main element in white always, her paintings throw the spotlight on the main character. She is the French painter, Aurelia Binet born in 1989.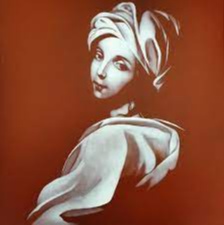 Aurelia has been inclined towards art since her early childhood days. She developed incredible taste for the history of art - the art of the Renaissance period in specific. She completed her studies at the School of Condé (Paris) during which time, she developed great interest in the restoration and conservation of art heritage. This young painter says that during her college days, painting imposed itself on her and mostly in particular, she found herself in love with oil painting making it the part and parcel of her artistic life.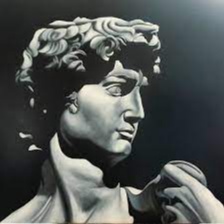 Her interest and love for the Italian and Flemish Renaissance art made her learn and take a closer look at the works of great artists like Raphael, Arcimboldo, Rembrandt and De vinci. This continuous learning kept her desire to contribute to the restoration of the most prominent art burning.
Aurelia's works reflect her taste and love for art. If she pays tribute in her own way to Michelangelo's David, Arcimboldo's autumn, Gustave Courbet's self-portrait, it is all because of the fascinating vibration she finds in those original art pieces. With her brushes, she paints those masterpieces and makes the viewers fall in love with their magnificence, royalty, complexity and uniqueness yet all over again. The 2020galerie Libre est L'Art / Galerie Libre est l'Art - Paris, France and the 2021Artshopping Le Carrousel du Louvre Paris / Carrousel de Louvre - Paris, France have exhibited her art works and be sure to check out her portraits, you are sure to look at them without an eye-blink.