One should look at the art born out of inner self!
Everything she does every single minute of the day is related to and associated with art. Be it music, painting, sculpture, performance, crafts - anything she does, goes in parallel with art. Art gives her solace, shows her a way out of her misery with Epilepsy. Markers, brushes, colours, paints, papers, fabrics, canvas, wood - everything that falls into her hand is moulded by her creative mind, thereby taking the shape of beautiful pieces of art. This selfmade painter, Lalie, is from France and obtained her education from 1999 to 2019 in France.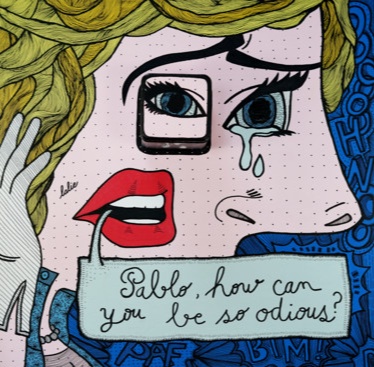 Ever since she had an encounter with epilepsy, instead of succumbing her spirits to it, she woke up her inner self and began 'canvas'ing her inner and real journeys. Colours became her best friends, the landscapes she thought iof, dreamt of and has been to became the theme of her paintings. Born out of her grief and depression are the shapes tinged with colours, that shifted her from drawing just faces to much more.
Art has essentially been the vital part of her life ever since years and her creations are inspired by street art and abstract expressionism. the artist whose art is born lout of personal agony and feelings says that music accompanies her throughout the process - "All my works would be nothing without the universe of Radiohead, Sufjan Stevens, Steve Reich", she mentions.