Man and the nature around him - Feel the magic of Bernard's brush!
His art, that has magical, mystical and supernatural elements, serves both spiritual and social function. His art is considered to be a reflection of our souls. He is the French contemporary painter Bernard Baud who paints using acrylics.
"My creations encompass the images of man and the nature that surrounds him. Inside every living being, there is a complex, organized, and random structure that defines who we are", he says about his creations.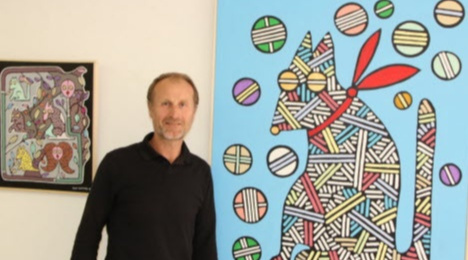 From Iron Craftsmanship To Applied Arts:
Born in the French Alps in the year 1964, Bernard Baud received training in ironwork and iron craftsmanship. He worked for Drouot in Paris for two decades where he came face-to-face with art forms and immediately fell in love with African Art, Pre Columbian, Russian icons, contemporary Fine and Applied Arts. There, the path he travelled until then, took a swift turn. His paintings unfold a colourful and gets to life, the structured universe. The impossibles become possible in his paintings. His paintings are free from judgements and prejudices. The imaginary figures and animals in the paintings do various things like they gaze at us, play golf, go on a picnic and what not! . He has organized several solo exhibitions and displayed his creations in various group exhibitions in France, the most recent one was held in October 2021 in Paris - Carousel de Louvre Paris 2021.