French artist and sculptor recreates unique models of the everyday world.
Her sculpture that says "Love is in the air", her paintings which overload with the cuteness of Winnie, Tweety and many more, depicting the joyful world's cheerful icons, aren't just enough to describe her artistic flair. Be it just the random collages or the mesmerizing sculptures, she has owned it all. Born in 1963, this French artist's work is popularly tagged as Art'Mony - whose name in reality is Patricia Ducept.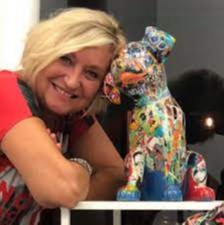 Having her exhibits making their way to the most prominent paltforms like Carrousel du Louvre, Salon ART 3F, Art Déco La Bastille, Monod, Gallery - Artitude Specturm Gallery Miami, Art Expo, New York, Retro Mobile Bo Concept Chatou, Contemporary Art, La grande Armée, Hippodrome Enghein les Bains Monceau Contemporary Art, NOI Gallery Galerie Libre est l'Art; she is also a permanent artist at the Sonia Monti Gallery.
This contemporary performing artist is a graduate of ESSAG Penninghen and is extremely passionate about painting, graphic design and sculpture. Her masterpieces are a combination of various techniques that fill her creative work with vigour and life. Also, her work is a recreation of the strange and unique details of the world that we otherwise fail to recognise in their true form.