Dive deep into her painting, find out what your heart says!!
Two decades! Countless colours and deepest meanings hidden behind every stroke, playing with shades is her favourite thing to do. Having exhibited her paintings in numerous prestigious platforms, this artist has recently displayed her magnificent art work at Carousel de Louvre Paris 2021. She is Alary Francine and her world of painting is worth taking a tour of.
With No Formal Training:
Who said that one needs formal training sessions to excel and perform? If one does what one loves, then everything around them becomes their teacher. That's how Alary became a renowned painter. She is a self-taught painter whose original creations are exhibited in the Paris region in the largest Contemporary Art markets. Mostly abstract, her paintings come in compositions of mixed media. She is associated with 4 hands creations, CiAM, Locatoiles and also conducts training sessions, workshop internships in mixed techniques used in abstract painting. She dedicated herself to the world of colours for over two decades now. She has attended several workshops organized by renowned artists from across the globe, absorbed the techniques only to emerge as an independent painter with a style of her own. She stands out from the rest in an abstract style that uses mixed techniques.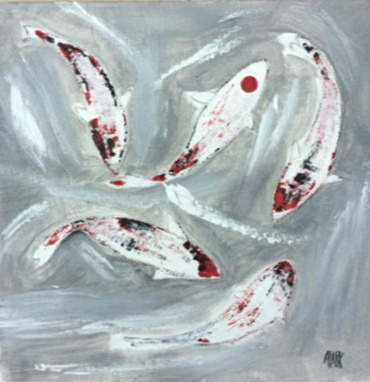 It's The Material That Matters:
Alary Francine gives primary importance to the material and she also is drawn by collages, prints, pigments, oils and acrylics. She has also explored herself in the sphere of Fluid Art. Exploring new techniques doesn't mean that Alary drifts away from her basic originals. She sticks to her basic techniques that gave an identity to her own style. Alary began to take her art work to a level, further high up where she doesn't give name to her work anymore. She leaves it to the viewer, lets him dive deep into it, imagine and elicit his own understanding from the colours on the canvas. The viewer is sure to be immersed into her world of creativity.
Nature Is The Biggest Provider:
When we look at Alary's paintings, elements of nature are sure to reflect and shine in front of us. She says that her sources of inspiration are primarily linked to the nature surrounding her. Especially, it is the marine aquatic environment that surrounds her habitat, that is reflected in her art works. So, you can imagine the most noticeable colour in her paintings – it's the Blue!
Exhibits That Take The Centre Stage:
Francine Alary has displayed her art works at several exhibitions, both group and personal, since 2003. She displayed them in the exhibitions in the largest Parisian contemporary art markets, GMAC Bastille, GMAC Chatou, Art Manet, St Germain en Laye. In the year 2019, she has got selected and participated in the exhibition of French Independent Artists in South Korea in Seoul in collaboration with the Grand Palais. She also participated during the Art Shopping in October 2021, at the Carrousel du Louvre where an auction of one of her paintings by the Millon house for the benefit of Action leukemia has taken place.
If one has to get lost into the emotion and untold stories of nature, then the most elegant way to do it is to check out Alary's work.