Come to talk about unique portraits, Maryline's name is synonymous.
"I seek coherence in often contradictory ideas/emotions. I evolve in a strong connection with my work, bouncing from idea to form, from form to idea", when the french artist Maryline Bourdin talks about what sort of an artist she is, she is true to her words. One should see her paintings that range from abstracts to unique portraits to immerse into her artistic ocean. Maryline's work of pure abstraction revolves around colors, lines, shapes and in a dimension detached from reality.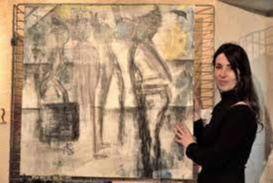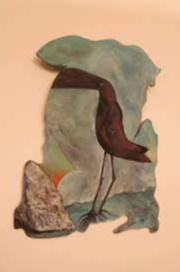 "Life is a theater, my grandfather told me. It is in this context that my art is expressed, scenes of life, gently complex stories. It is in pictorial poetry that things unfold, when we let reality escape through color, through shapes. This mode of expression questions, a part of the imagination can slip between what the artist paints and thinks / and what you see. It is in this small path that I like to walk and tell on a canvas what I perceive and see in the world. I can tell all things there and relive my scenes, hidden behind plastic compositions, play me plays so that my stories endure, relayed by your imagination. Bringing art to life and ... making it an art of living", she writes describing the works where she represented Pinocchio, an acrylic on cardboard and 5 heures du matin, an acrylic on canvas.
This French artist has got her paintings exhibited nationally. According to her, her art conveys metaphors related to love, as per to what she both lives and sees. Bourdin's works also explore humans, their relationships and their complexity. Her magical pieces are developed using acrylics, oil pastels and collage on paper, wood, or canvas. She has recently exhibited her work at the Carousel de Louvre Paris 2021.