Abstract art finds its new face in the hands of this Cubist master.
To parents who loved art so much, in 1961, Arnaud Duhamel was born as a gifted child. Just give him colours and brush and all you need to do is 'sit and watch the magic happen'. Since childhood, he explored various media and techniques and used ink, charcoal, pastel. It was in 1990s that he took up watercolours and oil to give his creativity, a new shape.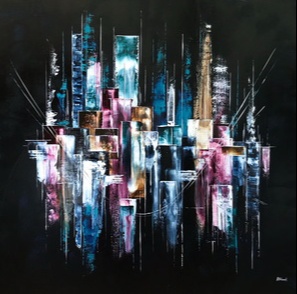 Arnaud Duhamel calls his paintings as his islands of humanities where there are well arranged geometric signals, very well organised that they let the characters of everyday life reflect in their truest sense. Cubist art, a style of art that highlights abstract structure over other pictorial elements, is what Arnaud uses to depict the relationship between men and women, nature and the city. Each of his works depict a cheerfulness and vibracy. The canvas he picks up is filled with abstract lines and figures which often hold hands to speak about the uniqueness of the world. His works are a celebration of the world and germinate countless emotions and pleasures. Having presented his works at several national and international contemporary art shows, Arnaud has made a mark of his own and those who stop at his work cannot move ahead without losing themselves to its magic.