A woman's sensuality and grace without leaving the humoristic side of her - all in his sculptures.
This amazing sculptor from France was deeply inspired by the works of 1960s, a sensational decade that saw rise in modernist thoughts and trends. Philippe Crivelli, an established artist who was born in 1947 and lived through this rapidly changing era that walked towards modernism, attained three years of training in sculpture at the "Terre et Feu" school in Versailles. just give him some clay and he would sculpt a female body in a very personal and contemporary version of the Classics of the genre.
This former computer engineer finds everything around him as a piece of art. Just look at his sculptures that stand in bronze that stand as long as about 40cm with faceless bodies, you will be amazed at his artistic brilliance. Philippe's work reflects eternal feminine with interpretation of movement, materials and personal emotions taking the centre stage. Philippe expresses the sensuality of a woman, her grace and humour with fine taste and through free gestures. If it's men, his shapes pose naughty postures, sometimes provocative. "Beauty in pieces and in all its forms, in the form of a pretty compliment to women. It is my declaration of love as an artist." - he opines.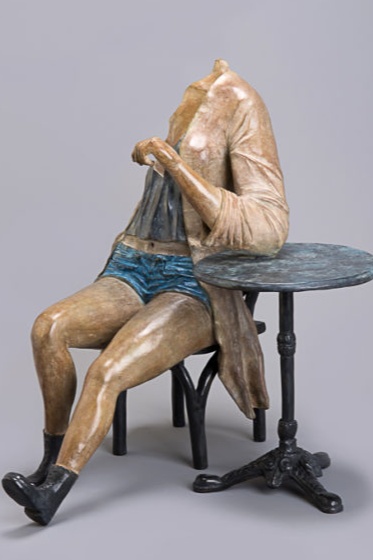 His art is exhibited in prestigious shows like that of at Paris Porte de Versailles, Bordeaux, Nantes, Mulhouse, Brussels, Luxembourg along with the most recent Art Shopping, Paris Le Louvre, Deauville, Biarritz, La Baule Dillingen in Germany Le Touquet, Héricy,