17 years old and has bagged 12 gold medals so far. Meet Kaveri Dhimar, one of India's finest canoers.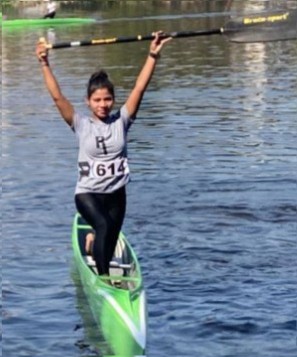 "Players of Madhya Pradesh State Water Sports Academy won 29 medals including 12 golds and 12 silvers at the 31st national senior canoe sprint kayaking-canoeing championship held recently at Bilaspur, Himachal Pradesh. In the championship, the women's team of MP won the overall championship, while the men's team was the overall runners-up". This news has been making rounds over the last few days while people of the country are congratulating the champions. Canoeing, which has been the most ignored sport and was also kept aside from the Olympics citing pandemic restrictions, is now coming to light with the scintillating performance of the Indian canoers. Out of them, there's a 17-year-old girl from Madhya Pradesh who won 12 gold medals so far - the current talk of the nation's sports sphere. She is Kaveri Dhimar and this is her rise-from-the-rags story.
From Ferrying To Canoeing:
Kaveri Dhimar hails from the Mandi village in Sehore district of Madhya Pradesh. Her father is a fisherman and Kaveri is the fifth of the seven siblings. Kaveri developed love for water sports right in her childhood. But playing them seeking professional training is a high-hanging fruit to her owing to the financial constraints the family has. Until 2016, Kaveri used to ferry boats for fishing in the back waters of Indira Sagar Dam on river Narmada in Khandwa district of Madhya Pradesh with the sole motive of helping her father repay the family's debt. She then joined the Madhya Pradesh Water Sports Academy in 2017 and from there her journey transformed from the waters of dam to those of the Bhopal lake. Interestingly, Dhimar was recruited to the Water Sports Academy by the Khandwa district sports officer Joseph Baxla, not for her caneoing abilities, but for her talent in swimming. She became a national champion in canoeing and emerged as India's top woman canoer.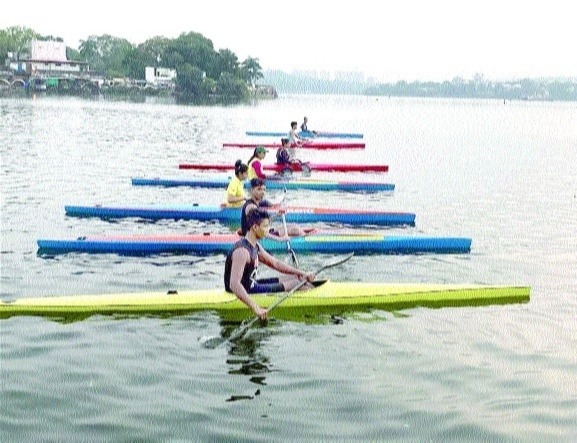 Achievements Lined In Her Canoeing Castle:
The girl who helped ferrying boars emerged as one of India's finest canoers. She was a part of the India national camp that would select a team for Asian Olympic qualifier in Pattaya, Thailand. Just 17 years old, but she has already won 12 gold medals at national canoeing events. "I'm fifth among the seven sisters and two little brothers. We didn't have any land and being from the fishermen community, our parents only relied on fishing in rivers to run the family," Kaveri told in an interview. In the year 2016, the Khandwa district sports officer Joseph Baxla spotted Kaveri's talent in swimming and took her to the MP Water Sports Academy in Bhopal. From there on, Kaveri, who took part in various national events, bagged over 12 gold medals in all. In the recently held Senior National Canoeing Championships, Kaveri Dhimar bagged a total of 7 gold medals and her total number of gold medals in the national canoeing events is now 19. Sports and Youth Welfare Minister Yashodhara Raje Scindia congratulated the players of Water Sports Academy on their achievement. She hailed that this victory was possible only because of the hard work and efforts laid by the players of the academy. Kaveri Dhimar also made her international canoeing debut recently. Madhya Pradesh Water Sports Academy's coach Pijush Baroi, under whom Kaveri trains, said, "Kaveri has emerged as the country's top female canoer within just four years. In a sport where height is considered advantageous, Kaveri with her short stature has emerged as country's top female canoer on the basis of her never say die approach and ability to grasp".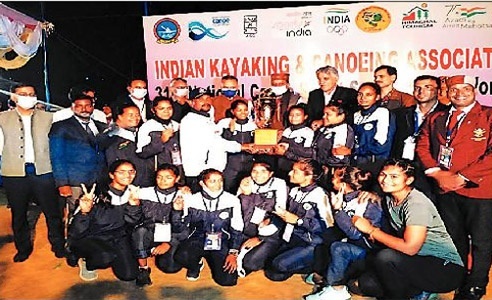 The Road To The Future:
Kaveri, who says that they still don't have a land of their own and that her main aim is to make her mark in the international platform bringing glory to both nation and her family.
"We still don't have our own land and my parents fish in the river Narmada. My dream is to make it big in the international arena one day and buy land for my family," she said.
May she become the reason behind youth choosing canoeing as a competing sport in the years to follow.